I always thought that sewing is magic, most of the time it starts like a spark ... it can be a memory, a detail, an image ... something that appears innocently before our eye and when it happens is fixed in our minds and goes directly to the brain that transforms it into an idea.
Sometimes the idea is complete and we know exactly what we want to do with it ... other times it's something ethereal, almost intangible .. but we know it's there, waiting for our imagination to transform it into a physical thing ... anywhere if we know that's the inspiration.
That was what happened to me when I searched on google an image for a cartel and announce the upcoming Share in Style ... and then I found this picture and I knew it was my inspiration. There was the spark!
Siempre he pensado que la costura es magia, la mayor parte de las veces todo comienza como un chispazo... puede ser un recuerdo, un detalle, una imagen... algo que aparece de la forma más inocente y al pasar ante nuestros ojos se fija en nuestra retina y pasa directamente al cerebro que lo transforma en una idea.
A veces la idea es completa y sabemos exactamente lo que queremos hacer con ella... otras veces es algo etéreo, casi impalpable.. pero que sabemos que está ahi, esperando a que nuestra imaginación lo transforme en algo físico... en cualquier caso sabemos que eso es la inspiración.
Eso mismo me pasó al buscar una imagen en google para hacer un cartel y anunciar el próximo Share in Style... y entonces encontré esta foto y supe que ella era mi inspiración. Se produjo el chispazo!
When this happens it is produced in me an important rush of adrenaline and I have to search immediately materials in my cave sewing to perform what is swirling in my mind, I found two meters of fabric thin cool wool and this pattern of Simplicity magazine, 11.
A quick scroll to my notions shop of trust did the rest.
Cuando esto pasa se produce en mí una importante subida de adrenalina y yo tengo que buscar inmediatamente en mi cueva de costura los materiales para llevar a cabo lo que se arremolina en mi mente, encontré dos metros de tela de delgada lana fría y el patrón de la revista Simplicity nº 11.
Un rápido desplazamiento a mi mercería de confianza hizo el resto.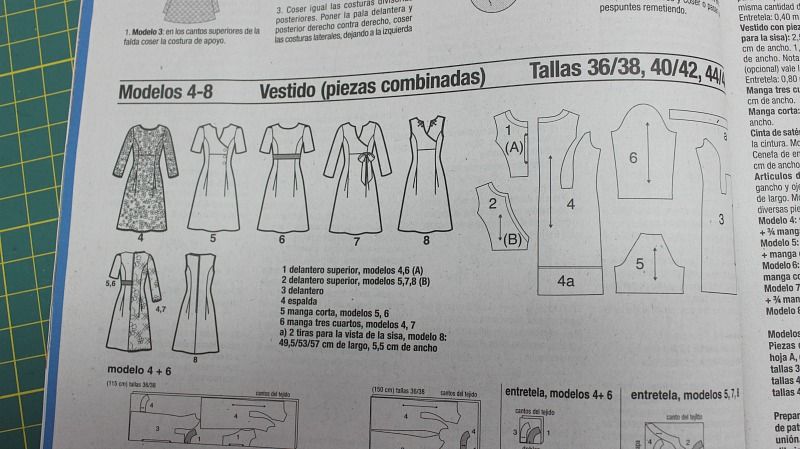 I think the model 5 will work quite well for what I have in mind, maybe some alterations on the skirt will bring it closer to my idea but it all depends on the amount of fabric available.
And you, Are you working on your Japanese inspired garment to join us next Monday?
Creo que el modelo 5 trabajará bastante bien para lo que yo tengo en mente, quizá algunos cambios en la falda lo acercarán más a mi idea pero todo depende de la cantidad de tela disponible.
Y tú, estás trabajando en tu prenda de inspiración japonesa para unirte a nosotras el próximo lunes?