A new Share in Style with Sacramento, this time with topic free.
And this time, I'm accompanied by a blogger to whom I deeply admire, I meet her from some years ago, we are doubly connected by two powerful reasons ... our love for sewing and our love for the vintage.
Rhia is the beautiful mind behind the blog Evil Dressmaker and you can find a lot of inspiration there if you like both, vintage and sewing. Don't forget to stop by her blog to meet her and enjoy all her creativity.
Un nuevo Share in Style junto a
Sacramento,
esta vez con el tema libre.
Y esta vez me acompaña una blogger a la que yo admiro profundamente y conozco desde hace algunos años, estamos doblemente unidas por dos poderosas razones... nuestro amor por la costura y nuestro amor por el vintage.
Rhia es la maravillosa mente que está detrás del blog Evil Dressmaker
y allí puedes encontrar mucha inspiración si te gusta tanto el vintage como la costura. No te olvides de pasar por su blog para conocerla y disfrutar de toda su creatividad.
This time I had an assistant ... or maybe a judge considered whether my sewing was well done? .... "Rosy, you have to make shorter stitches! That seam is twisted!
En cuanto a mi, esta vez tuve un ayudante ... o quizá un juez que analizaba si mi costura estaba bien hecha?.... "Rosy, tienes que hacer puntadas más cortas ! Esa costura está torcida!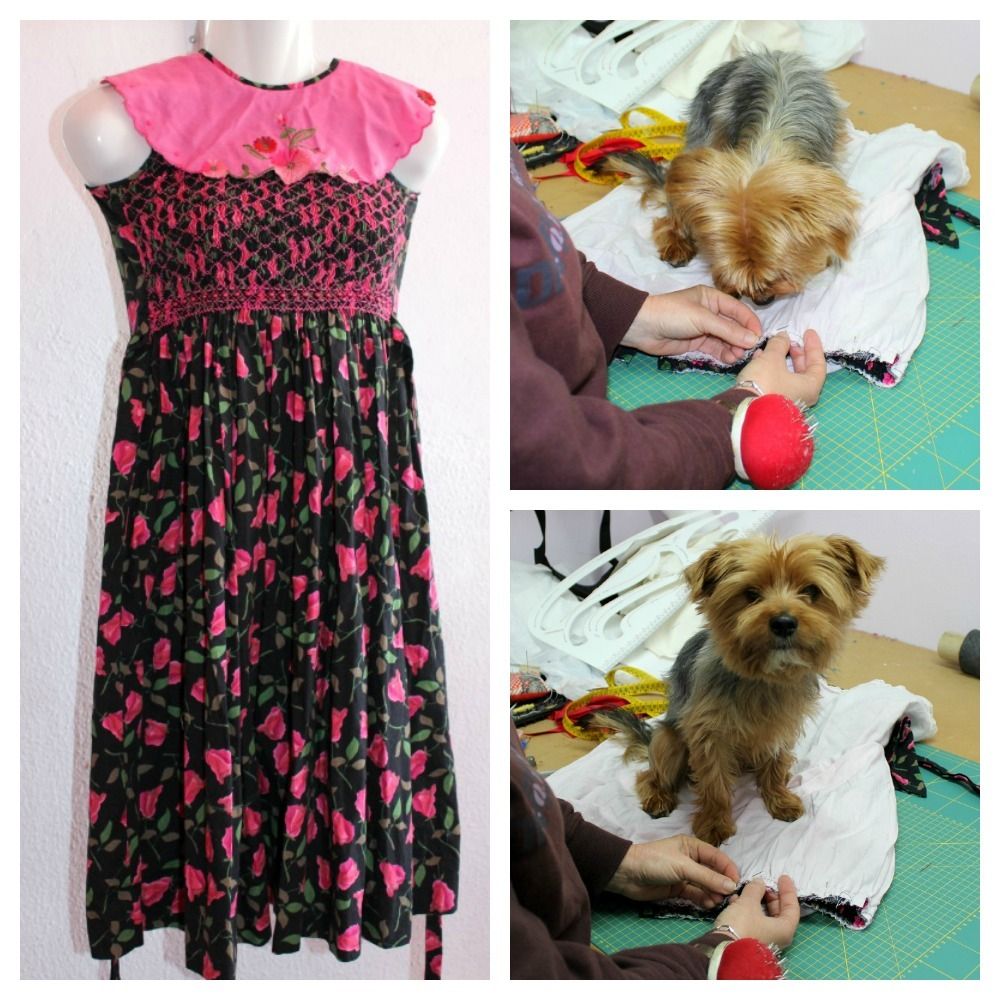 I had little time available to sew a garment for this Share, mainly because I am completely abducted (should say "lovingly abducted") by a beautiful red dress that requires all my attention, so I took a while for "refashion" a child dress I bought last year in a charity shop; from the first time I was attracted by the print fabric and after checking that it was in immaculate condition, it came home with me for 1 euro.
The process has no merit, simply cut up on the area of shirring and collect in a waistband that I sewed from the two strips for tie the dress on the back.
Esta vez no tenía mucho tiempo disponible para confeccionar una prenda para el Share, principalmente porque yo estoy completamente abducida (debería decir "amorosamente abducida") por
un precioso vestido rojo q
ue sigue en proceso y que requiere toda mi atención, por lo tanto yo tomé un rato para "refashionar" un vestido de niña que compré el año pasado en una tienda de caridad; desde el primer momento me llamó poderosamente la atención el estampado de la tela y después de comprobar que estaba en estado impecable se vino a casa conmigo por 1 euro.
El proceso no tiene mérito alguno, simplemente cortar por la zona del fruncido y recoger en una banda de cintura que cosí a partir de las dos tiras que traía el vestido para anudarlo a la espalda.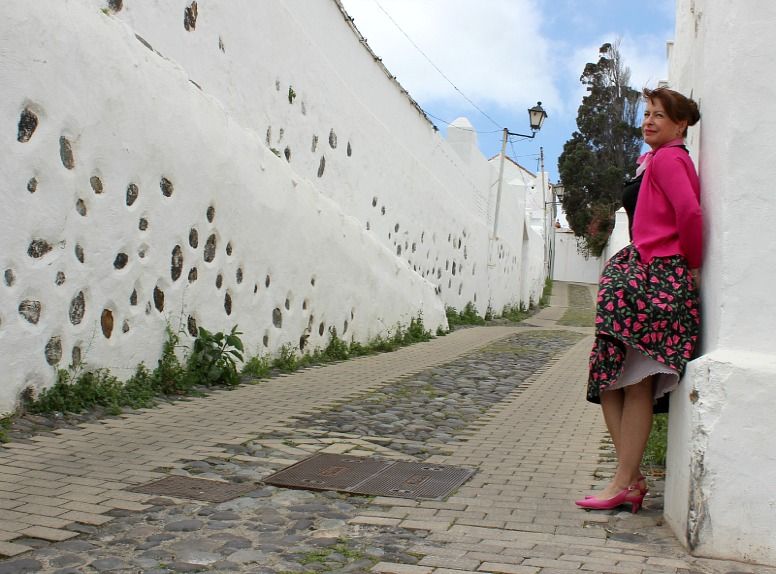 I have to admit that occasionally I find very rewarding these quick projects, a while sewing becomes a new piece in my wardrobe and this time the bonus is doubled, because I've got a perfect matching to wear these wonderful gloves that are a gift from my dear María, a great person of those who you find on this virtual world and quickly become unconditional friend. Thanks María for your beautiful gift !!
Tengo que admitir que de vez en cuando me resultan muy gratificantes estos proyectos relámpago, un rato de costura se convierte en una nueva prenda en mi armario y esta vez la gratificación es doble, porque he conseguido un equipo perfecto para lucir estos maravillosos guantes que son un regalo de
mi querida María,
una gran persona de esas que encuentras por estos mundos virtuales y que rápidamente se convierten en amiga incondicional. Gracias María por tu hermoso regalo!!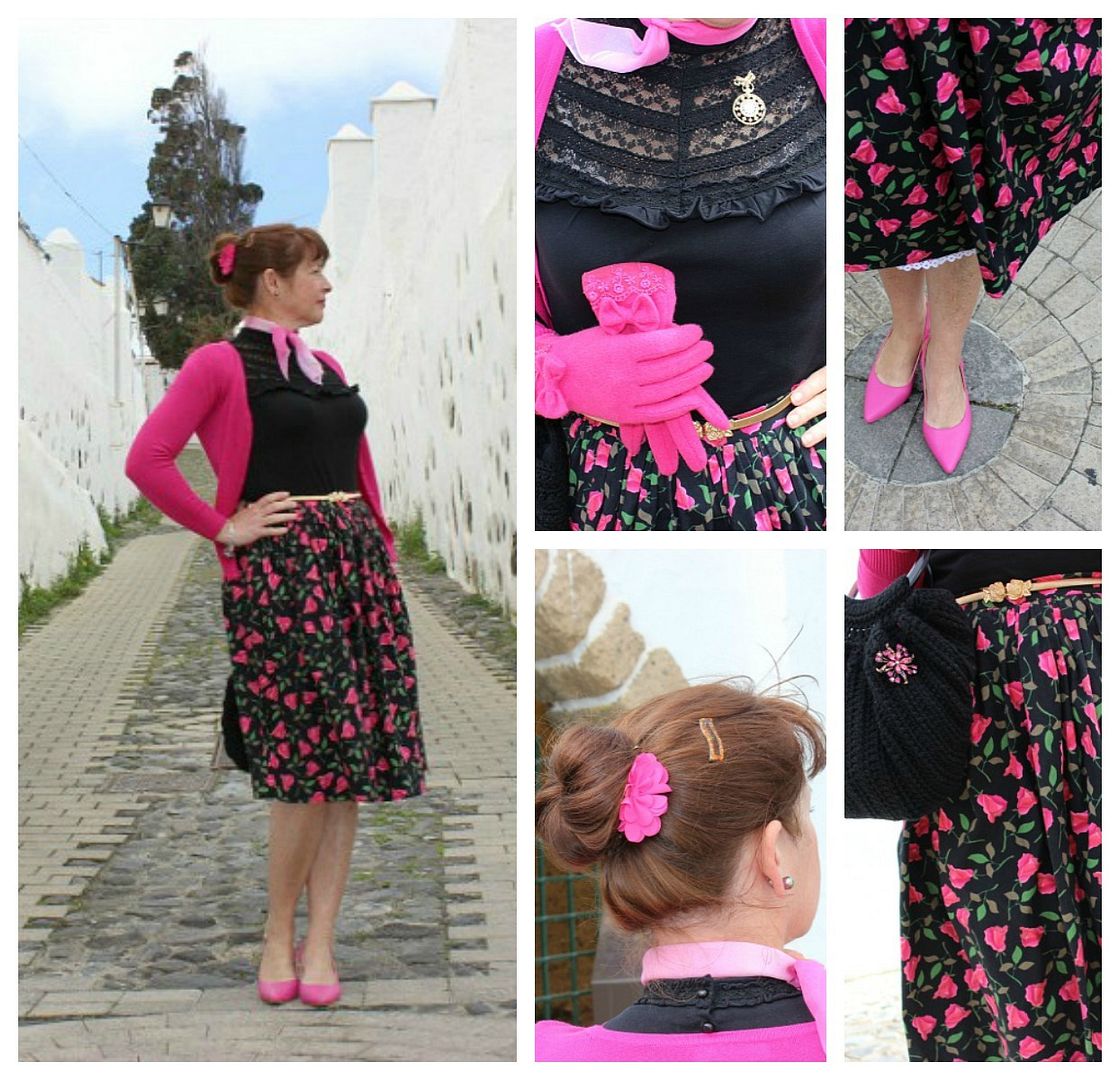 Don't forget to link up your post below, today the topic is free, so anything is fine with that !!
So, for the next Share in Style ... Sacramento and me have decided that
while we will continue proposing you topics ... always there will be free choice of topic free in each Share in Style.
Therefore, the following Share in Style will be on

March 16

and the theme will be

"Yellow"

, but also remember that if your post does not fit to the proposed topic, you can also join the party-link, you're welcome anyway!
No olvides linkear tu post aquí abajo, hoy el tema es libre, así que cualquier cosa está bien con eso!!
En cuanto al próximo Share in Style... hemos estado debatiendo Sacramento y yo, así que hemos decidido que mientras seguiremos proponiendo temas... siempre habrá la opción libre, en cada Share. Por lo tanto, el siguiente Share in Style será el día
16 de marzo
y el tema será
"Amarillo",
pero recuerda igualmente que si tu post no se ajusta al tema propuesto, puedes igualmente unirte a la party-link, eres bienvenida!