It's a new Share in Style and I realize that I'm two weeks without posting anything, no free time ... but I'll tell you later what had me so busy, but surely if you follow me on Instagram and you have guessed, well ... today's topic is "Yellow" but remember that you can also join us with topic free.
My partner today needs no further introduction ... she's my dear Sacramento, quite some time since we went partners and we really wanted to redo it, so today I save the presentations and give me the pleasure of enjoying of a luxury partner!
A donde se ha ido el tiempo?? Ha llegado un nuevo Share in Style y me doy cuenta que llevo dos semanas sin publicar nada, aunque no porque no haya hecho nada, más bien todo lo contrario... pero ya os contaré más adelante lo que me ha tenido tan ocupada, aunque seguro que si me sigues en
Instagram
ya lo has adivinado, en fin... el tema de hoy es "Amarillo" pero recuerda que también puedes unirte a nuestra fiesta de links con tema libre.
Mi pareja de hoy no necesita presentación...
es mi querida Sacramento
, hacía bastante tiempo que no hacíamos pareja y nos apetecía mucho, así que hoy me ahorro las presentaciones y me doy el gustazo de disfrutar de una pareja de lujo.
And what about me? the topics proposed on SIS excites me to think for adjust and think about how to get them to my wardrobe, this idea came to me by chance in my road every day, if a few weeks ago we're enjoying the almond blossom, now the mother Nature's show changes of color to surprise us with the range of colors offered in Spring ... Acacia trees that I see every day beside the road are in all its splendor and invited me to imitate them.
Y en cuanto a mi, me apasiona esto de discurrir en mi cueva de costura para ajustarme a los temas propuestos y pensar en como llevarlo a mi guardarropa, esta idea saltó a mí por casualidad en mi camino diario, si hace unas
semanas atrás disfrutábamos de los almendros en flor,
el espectáculo de la madre naturaleza va cambiando de color para sorprendernos con el abanico de colores que nos ofrece la primavera... las acacias que veo todos los días al lado de la carretera están en todo su esplendor y me invitaban a imitarlas en su colorido.
I had no time to sew a new garment, so I refashioned an old sweater of Zara, I embroidered a bouquet of acacia tree on my sweater, I first cut the sleeves to do it more comfortable at this weather and a ghost pen transferred the drawing with an ghost pen on the fabric , green leaves was made with the technique of felting (by the way, I just found this technique and it has become my new vice), yellow flowers was made in knot stitch using thick wool and twigs are made with chain stitch.
I leave you the picture below if you would like take a bouquet of acacia on any of your garments too, you can completely change a boring garment with some work hours. This sweater is the perfect combo for the skirt you can see here.
Así que no tenía tiempo de coser una prenda, lo que hice fue dar un cambio de look a un viejo suéter de Zara, he llevado un ramillete de acacia a mi suéter, para empezar he cortado las mangas para hacerlo más confortable en esta época el año y con un bolígrafo fantasma transferí el dibujo , las hojas verdes está hechas con la técnica del afieltrado (que por cierto, acabo de descubrir y se ha convertido en mi nuevo vicio) , las flores amarillas están hechas en punto de nudo utilizando lana gruesa y las ramas están hechas con punto de cadeneta.
Abajo te dejo el dibujo por si te apetece llevarte un ramillete de acacias a alguna de tus prendas también, con algunas horas de trabajo puedes cambiar completamente una prenda aburrida. Este suéter se ha convertido en el compañero perfecto para
la falda que puedes ver aquí
.
Y hoy quiero agradecer (que nunca lo hago) a la persona que está detrás de la cámara, que me acompaña en todas mis locuras y que es mi compañero en la vida, Gracias Mr. A. por aguantarme y porque sin ti este blog no sería lo que es, tú lo sabes.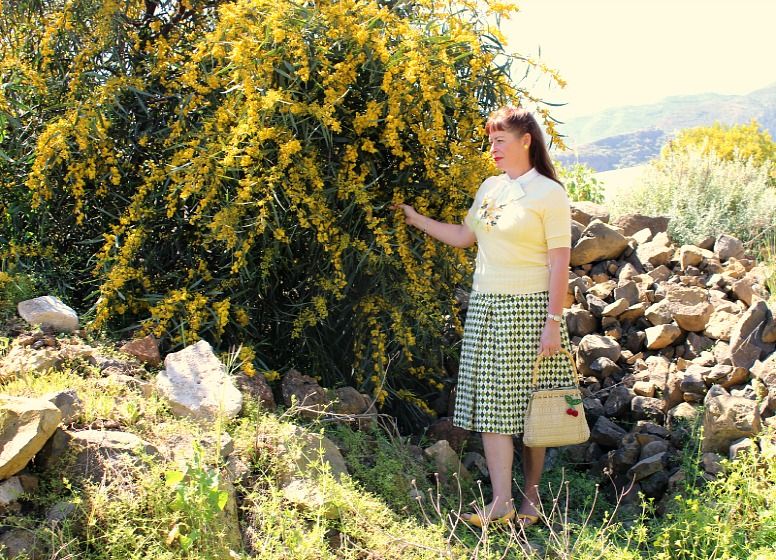 Remember that the link will be open until Wednesday at twelve o'clock (Spanish time) for you to join us to today's topic "Yellow" or for free, if your look doesn't fit to yellow, you're welcome equally .
And next Share in Style will be on

March, 30th

and the proposed theme will be

"Cowgirl inspiration

", so indulge yourself in the Wild West and get ready to build your funniest, special and wonderful look to share with us, I count with you !!
Y recuerda que el link estará abierto hasta el miércoles a las doce de la noche (hora española) para que te unas a nosotras bien con el tema de hoy "Amarillo" o bien por libre, si tu tema no se ajusta, eres bienvenida de igual forma.
Y el próximo Share in Style será el
día 30 de marzo
y el tema propuesto será "
Inspiración Cowgirl
", así que déjate llevar por el lejano Oeste y prepárate a desenfundar tu más divertido, especial y maravilloso look para compartir con nosotras, te espero!!